It's Time To Host a Star Party!

2018-06-11
2018 is the year to host a Star Party in Michigan! Read on for event details and background on why star parties are terrificly fun.
A "Star" Party?
If you've never attended a star party, in a nutshell, it's a bunch of folks camping in the wilderness with telescopes and cameras pointed at the night sky.
Oh, but it's so much more than that. First of all, camping is fun. Camping with a big group can be even more fun. And camping with the explicit purpose of using astronomy equipment for what it was meant for... well that's a rare treat.
The best part about the star parties I've hosted over the years are the folks who are new to the scene. I like to invite all my friends, not just those who own telescopes or are seasoned campers. It's a terrific opportunity to see a completely new side of the universe for some... a much, much bigger side than the side they're used to, and helping folks have that opportunity is very fulfilling!
To get a feel for the amateur star party vibe, watch this short time lapse I compiled of one back in 2013. It was such a good time!
Michigan 2018 Star Party Details
⚠
The Star Party has been postponed to
Saturday, October 6th!
The event needed to move from the original date of Saturday, August 11 due to some unexpected family business. The crisper early-autumn air will probably make for better visibility anyway. Fewer bugs and the potential for some color change are an added bonus!
When?
Saturday, October 6, 2018
Gathering in the afternoon, camping overnight, leaving Sunday morning
Where?
At
this site
in the Huron National Forest
44°33'25.5"N 84°09'41.2"W
Directions
From southeast Michigan drive north on I-75
Take exit 202 to Highway 33 northbound (toward Mio)
About 9 miles north of Rose City turn left to head wast on E Wagner Lake Road
Continue past the Wagner Lake Campground to Watson Road. Continue across Watson Road on the two-track dirt road. This leads directly into the site.
Who's coming?
Open to all, including kids and dogs! Between twelve and thirty people are expected.
What to bring?
You're responsible for all of your own shelter, bedding, rain gear, food, and water. Be prepared! Please bring one bundle of firewood to contribute to the group campfire.
Bad weather?
If it's cloudy we still camp and have a great time. If it's pouring rain then we may cancel. Cancellation notice will be sent on invite email threads.
---
For more details see the embedded map and frequently asked questions below.
Frequently Asked Questions
What does it cost?
It's free! This site is dispersed camping in the Huron National Forest. It's federal land, and it's legal for a group of up to 75 people to camp without a permit or any fees to pay anywhere in the forest.
What type of facilities can I expect?
None. Seriously. This is dispersed camping - an open field tucked in the forest, no power, no trash service, no running water, and no bathrooms. However, the small Wagner Lake Campground is very nearby (1/4 mile down the road) and it has vault toilets and running water.
How many people are coming?
Nobody knows until the day of, but there's been a fair bit of interest. Having hosted similar star parties before with roughly the same number of invites we've seen anywhere from a dozen to thirty or so people show up, including kids and dogs.
What should I bring?
You're ultimately responsible for all your own camping gear, so shelter, bedding, rain gear, food, and water. We'll also have a big campfire for everyone to gather around, so please bring a bundle of firewood to contribute.
Can I get my tiny car / huge trailer into this site?
Yes! It's very accessible and camping vehicles of all sorts are welcome.
What if I don't have a telescope (or only have a dinky one)?One thing telescope owners love more than anything else is wowing other folks by capturing neat things in their scopes. Come along and enjoy the show. If you've got a scope of any size this is the best place to try it out, so bring it along.
What about photography?
Got a DSLR camera and a tripod? Try your hand at astrophotography! There will be folks there (myself included) who can give pointers if you've never done it. If you've got a few lenses bring them all or favor the "fastest" ones - the ones with the smallest f-stop number (e.g. f/2.4) as they tend to work best when shooting the dark sky.
Should I bring my kids and/or dogs?
Absolutely! This is a very kid friendly and dog-friendly outing. Especially if you've got little ones that have never really looked through a telescope before.
What if I hate camping?
Camping isn't something everyone automatically knows how to do such that it's fun and not a hassle. If you've never had a great time camping but want to give it another shot this is an excellent way to do it. Camping with a big group around a common fire is a very different experience from camping with only a few people or the family. While it's still important that you be prepared and self sufficient, our group will be a friendly social one and if you need help you'll have it!
What if it rains or is cloudy?
That will be a disappointment, but my core group (wife+kid+dog+me) plan to camp regardless. Even if we can't use the scopes it's still fun to camp! If heavy rain is likely we may cancel, and I'll be in contact via the email threads where invites are sent.
What will we see?
Four planets (Venus, Mars, Jupiter, and Saturn - see simulation below)
The Milky Way including the galactic core
Several deep sky objects including star clusters, nebulae, and other galaxies
More stars than we can count and all the prominent summer constellations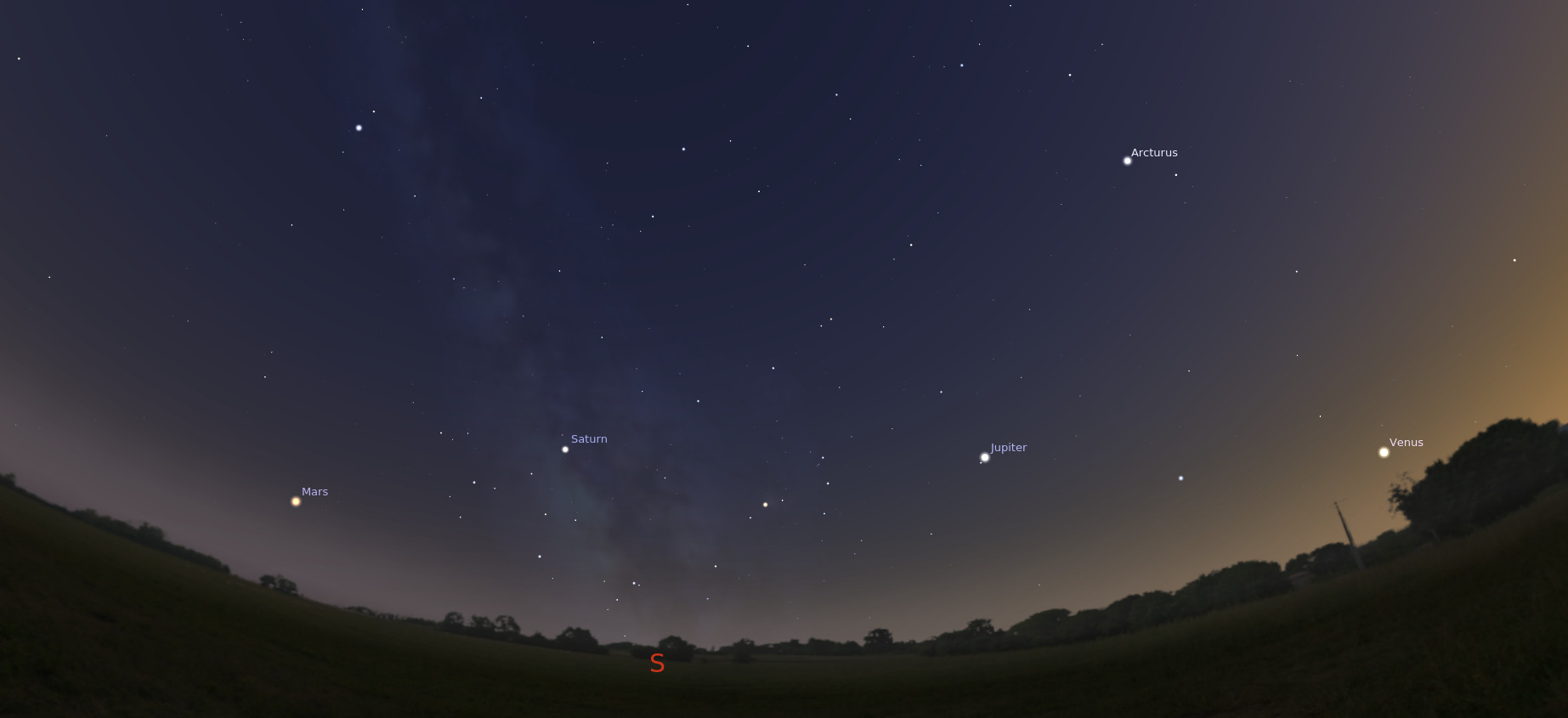 Site Selection
Selecting a good star party camp site can be difficult. A suitable site must combine several factors for a successful outing:
Must be easily accessible without the use of a 4WD vehicle
Must accommodate a large group
Must not require payment or reservation
Must have an unobstructed view of the sky, particularly to the south
Must be reasonably free of light pollution
The first three points are basic mechanics of group camping. Since star parties like this are wider invitation, where most participants won't be already a part of the amateur astronomy community, ease of access is important to get a decent turnout. This is where the National Forest System is phenomenally helpful! Dispersed camping in national forest is legal without a permit pretty much anywhere as long as your group is under 75 people. Also, Michigan campgrounds that require reservations tend not to have group sites suitable for a star party. They cost money and favor wooded areas and areas near water, so the latter points about unobstructed views and light pollution become almost impossible to achieve.
As for unobstructed views, the forests in Michigan tend to be pretty dense so there are only a few sporadic clearings worth considering. This site was selected after a scouting trip to suss out different clearings found by poking around satellite imagery on Google Earth.
Finally, there's light pollution. In the eastern half of the United States it can be difficult to escape the glow of the denser population centers all around. However, even in Michigan's lower peninsula, there are options! See the image below showing where our site appears on darksitefinder.com, an excellent interactive map showing light pollution around the world. From this map it's pretty clear how different the lower peninsula's two national forests (Huron-Manistee in the west vs. Huron in the northeast) fare with darkness. And local darkness isn't the only factor... also worth considering is the proximity to light pollution sources to the south, since that's the direction we'll tend to look to find all the neat things. In the Huron-Manistee forest to the west the big glow to the south is Grand Rapids, a larger/brighter population center than Midland / Bay City / Saginaw to the south of our selected site. We'll find out in August October just how well our selected site stands up.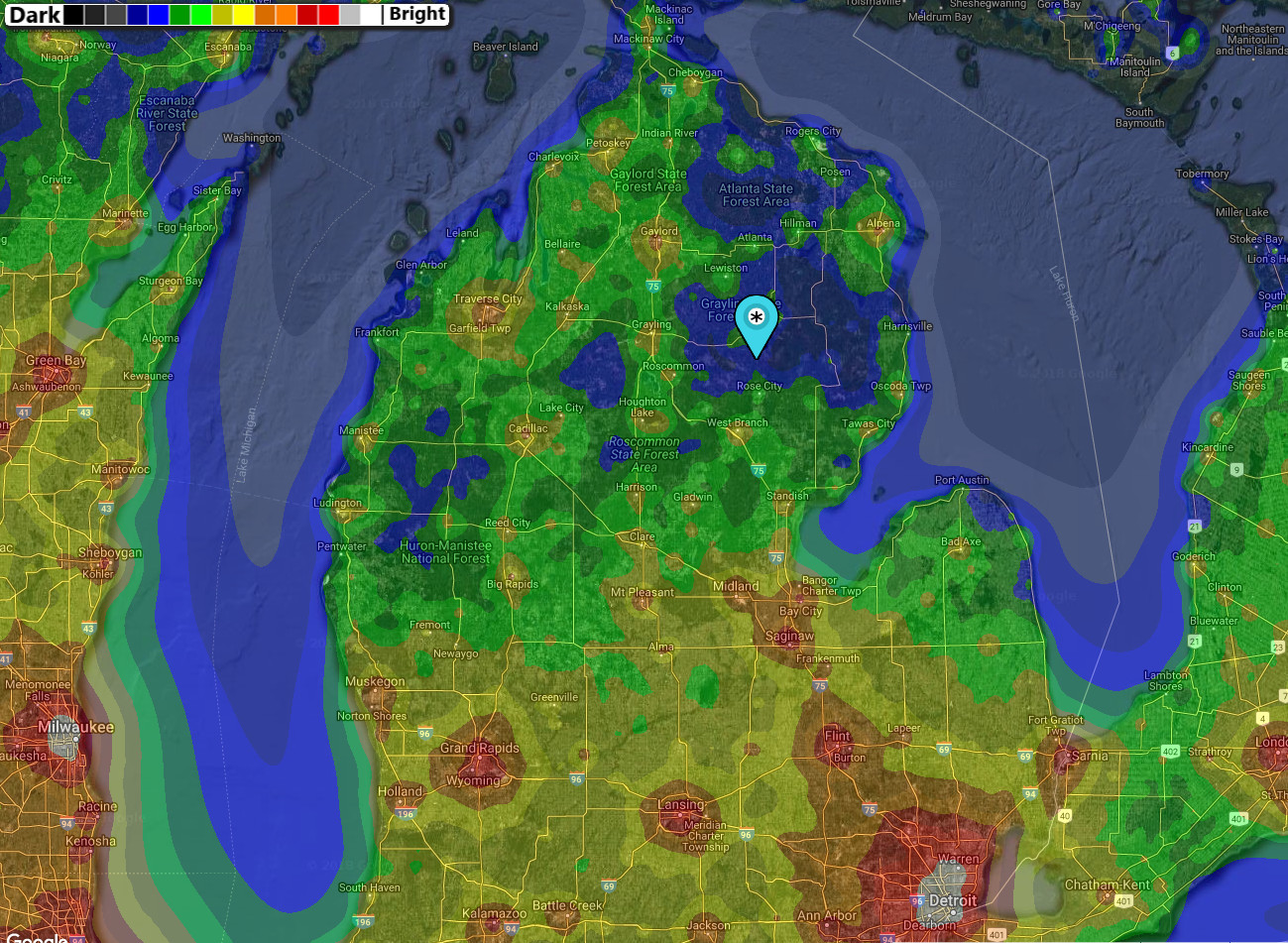 Star Party Etiquette
A star party thrives primarily on having good night vision and stable equipment. The guidelines are pretty simple...
Light
After dark keep the amount of lights in the campsite to a minimum.
If using a flashlight to walk around after dark keep it pointed at the ground in front of you. Never shine a flashlight in someone's face!
If you have flashlights or lanterns with red filters those are preferable and will earn you bonus points with astronomers. Blue light kills night vision but red light does not. The pros tend to only use red lights when working in the field.
Noise
We're a big group so we might get loud. Though we'll be fairly well isolated it's good to keep the noise down, especially as it gets dark/late, to give and children in our group the quiet they need to sleep.
Fire
We'll establish a communal fire pit to have a good-sized camp fire (on which everyone can cook meals or just enjoy the warmth and glow).
Anyone can help tend/build the fire.
You are responsible for your safety and the safety of any members of your group (i.e. kids or dogs) around the fire.
We can gather wood from the forest to burn but should do so sparingly and bring the majority of the wood we'll burn in with us.
Someone should be attending the fire at all times.
Only wood and paper waste go in the fire.
The fire is put out with water when the last camper goes to bed and when the last camper leaves the site the next day.
Trash / Waste
All campers are responsible for their own trash.
There is no trash service at the site. All trash must be packed out.
This is a leave no trace event. Littering / leaving stuff behind is really, really not cool and will get you not invited back in the future. Respect the forest and the others who will come after us.
Post-amble
Star Parties are ever so much fun! I think I may have gone to my first when I was only two years old. My dad is an astronomer and brought my brothers and I along to star parties with dozens of other astronomers all throughout our childhood. It was at a star party that I first remember hearing the sound of my eyelashes whisking on my sleeping bag, thinking it was approaching footsteps of my dad or another camper.
Camping and the stars have always been closely intertwined and bring so much joy. I now have a son of my own who will be approaching 20 months old when he attends this star party in 2018. He's already no stranger to camping, but he has yet to look through a telescope (or stay up late enough to see the stars in the summer time). But to my surprise he's looking to the sky far ore often than I am (and I look up a lot)... he's always pointing out distant planes and birds that I miss.
Though I'm not an astronomer like my dad before me I still grew up with a deep appreciation for the night sky and all the wonders it keeps. And one doesn't need to be astronomer to learn about the heavens above and make real attempts to get out and see them, photograph them, etc. This will be the fourth star party I've hosted (maybe fifth?) and every time the greatest satisfaction comes from seeing new friends who may be inexperience campers or inexperienced with the night sky discover something new and dazzling about the universe and about themselves.
Here's hoping for clear skies!
--

Christopher Clark
2018-06-11
---